AllCall W1 Review: A Intriguing 3G Smartwatch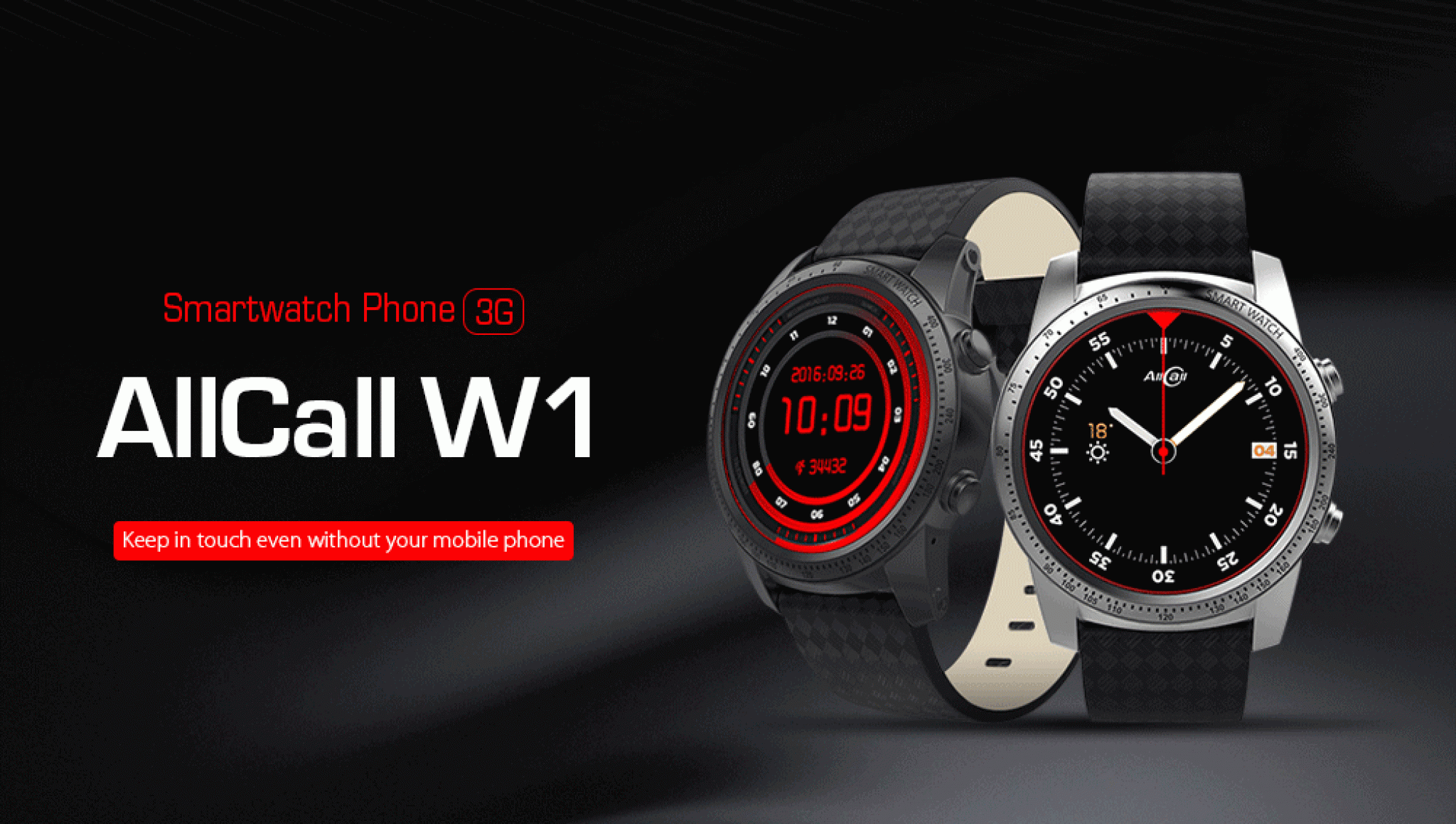 [ad_1]
Looking for a smartwatch with a classic design, running the Android operating system for a reasonable price? The  AllCall W1 3G smartwatch run Android 5.1 control on a 4-core MTK6580 processor with a clock speed of 1.0 GHz. Currently, AllCall W1 price is less than $100. Now the question is whether the price matches the specs and features that it has. Well on paper it looks decent, but let's take a deeper look at it. So let's review the AllCall W1 3G Smartwatch with pros and cons.
AllCall W1 Review with Pros
DISPLAY
The screen is a circular dial which has a diagonal size of 1.39 inch. It holds a resolution of 400×400 pixels which means it has a pixel density of 407 PPI (pixels per inch). The best part is that it is an AMOLED display which has better viewing angles and saturation along with lower consumption of battery capacity.

BODY MATERIAL
The entire body is made out of metal. The material is aluminium which weighs 66 grams that excludes the strap.
Speaking of the strap it comes with a leather strap. Unlike silicone strap, it is very premium.
PROCESSOR
Under the hood, it comes with a 1.0 GHz processor which is sufficiently fast enough to run a smartwatch. To be specific it is the MTK6580 which is a quad-core chipset. You will have no problems or issues in running the device. No lags can be experienced.
RAM & ROM
It comes with 2 GB RAM, which is definitely more than enough for a smartwatch. Normally smartwatches come with 500 MB to 1 GB of RAM, that's the max. But this one has crossed the limit. You will be able to install and run large applications without any lags.
Another advantage of AllCall W1 3G Smartwatch is that the internal memory is of 16 GB. You will have around 12 GB left for storing files and installing applications.
SIM & NETWORK
Yes, it does have a SIM card slot, means you will be able to make calls right from the device itself. The quality of the call is same as smartphones.

For internet connectivity, you don't have to pair the device with a smartphone. It has a dedicated internet feature which supports the 3G network.
SOFTWARE
Currently out of the box it runs on full Android 5.1 which is the Lollipop version. Despite it has an Android operating system it works with iOS as well.
HEALTHY ACTIVITY
AllCall W1 3G Smartwatch pros are that it comes with a pedometer which measures the footsteps taken while running or walking. It is not 100% accurate but pretty close enough for casual monitoring.
Another health activity sensor is the heart rate monitoring feature. It's an optical sensor which resides at the bottom of the smartwatch.
Apart from that, it has the ability to monitor sleeping activity. It basically tells you whether you have had too much sleep or less.
BATTERY & MISCELLANEOUS
You also do have the option to pair it with a smartphone for synchronizing messages. You will be able to read right on the device. Even calls will be notified along with notifications from third-party applications.
You don't have to worry where you have left the device. It has an anti-lost feature that lets you easily find when lost.
It has two short-range wireless feature. Bluetooth and Wi-Fi. The former is for pairing with other devices. You can also pair with wireless headsets for listening to music.
The battery is large enough to last more than a couple of days for a normal user. It has a capacity of 400 mAh which charges under 1.5 hours.
AllCall W1 Smartwatch Cons
First cons are that it does not have an IP67 website rating, means it is not a waterproof smartwatch.
Secondly, AllCall W1 3G Smartwatch cons are that it does not have a memory card slot. I am asking as there are others which do provides an external memory slot.
AllCall W1 Features
The smartwatch has many features that you will surely like. I will not list all, but we will consider the most interesting ones.
Watch Face – several standard interfaces are loaded in the device from the box, or rather, there are about 20 of them. This set includes digital, analogue and animated dials, but if this is not enough for you, you can download additional options by connecting the watch to WiFi.
Menus and options – it is possible to set the menu display style. Its icons can be displayed in a list or in a circle. I liked the list more, it's much more convenient. The menu contains contacts, Bluetooth settings, messages, phone, health, browser, music player, gallery, voice recorder, weather, calendar, voice prompts and maps.
Switch Platform is a useful feature that allows you to switch from Android to iOS right in the watch.
Applications – Google Play is pre-installed in AllCall W1, and if you don't have enough apps to fully use the smartwatch, you can download it from the store.
User interface – Managing this device is very simple and it will take only a few minutes to understand the management. For example, with a swipe from right to left you get to the main menu. Scrolling from left to right opens notifications.
AllCall W1 Specs
| | |
| --- | --- |
| Model: | AllCall W1 |
| CPU: | MTK6580 Quad-Core GPU: 1G four-core processor |
| Memory: | RAM: 2GB; ROM: 16GB |
| Memory card support: | no |
| Screen size: | LCD 1.39 inch OLED |
| Screen resolution: | 400×400 pixels |
| Touch screen: | OLED capacitive touch screen |
| Bluetooth: | BT2.1 + BLE4.0 |
| Camera: | no |
| Firmware: | Android 5.1 |
| Tongue: |  English Russian |
| Battery: | 420 MAH polymer battery |
| Compatibility: | Android, Apple iOS |
| Support local SIM card: | yes nano-sim |
AllCall W1 Main functions
| | |
| --- | --- |
| Communication Standards: |  GSM (850,900, 1800,1900) WCDMA (850,2100) |
| SMS messages: | synchronization with a smartphone and work from a local SIM card |
| Entertainment: | Audio: AAC, AMR, MP3, OGG, WAV, Video: 3GP, FLV, MP4, RMVB |
| Camera: | remote control camera phone |
| Network: | 3G, Wi-Fi, GPS, GSM, BT |
| Sports Features: | pedometer, measurement of distance travelled, calculation of calories burned, sleep monitoring, activity monitoring, heart rate sensor. |
| Business Functions: | phone book, voice recorder, calculator, calendar, alarm clock, etc. |
| Security: | two-way system of protection against theft and loss of phone and watch |
| Additionally: | Accelerometer / Gyroscope, many types of clock screensavers |
AllCall W1 Dimensions
| | |
| --- | --- |
| Dial Shape: | round |
| Body colour: | graphite silver |
| Band colour: | the black |
| Band Material: | leather |
| Dial Width: | 48 mm |
| Dial Length: | 48 mm |
| Case Thickness: | 14 mm |
| Watch Length: | 275 mm |
| Watch weight: | 66 g |
AllCall W1 price
This model is currently available for sale in a few online stores.
[ad_2]
Classic Smartwatch
This is one of the few smartwatches with a classic style. They look presentable and a little thick. Although, this does not affect the convenience, and they sit perfectly on the hand. We can say that this is a typical Android watch, smart and smooth in operation and with a good price.